Disclaimer: some of the links below are affiliate links, meaning, at no additional cost to you, I will earn a commission if you click through and make a purchase.  
I love candles.  Love, love, love them.  I am a huge fan of the "baked goods" sort of scents- cinnamon & pumpkin based scents are my jam!  Those scents just don't seem to work when the weather warms up. I am not a huge fan of super floral or sweet scented candles that seem to be more popular in the warmer months.  I have found my new all time favorite scent recently, so I thought I would share that along with a few other scents that I am loving right now.
1. Chesapeake Bay Candle Co. in "Balance & Harmony" ($8.49)
This is my new all time favorite scent!  It is fresh but not overpowering with the scent of pear and water lily.  I picked mine up at Target, but I also spotted it on Amazon (prime!) for the same price.
2. Hearth & Hand with Magnolia Lidded Jar Candle in Cedar Magnolia ($12.99)
This one is a scent that I would say works all year long.  It reminds me of a cologne scent, but it is not overpowering.  It's pretty perfect, but what else can you expect from something from Chip & Jo's line? This one is available exclusively at Target. In addition to the jar candle, they also have it available a larger galvanized jar that is super cute.
3. 719 Walnut Avenue Candle in Mahogany Driftwood ($6.03) 
So this candle was a surprise find a couple summers ago.  I found it at Walmart, but it was not in the candle aisle.  It was in the cleaning/detergent aisle.  I really like a lot of their scents (they change them up seasonally), but I have gone back a few times to purchase this particular scent.  If you are a fan of the Bath and Body Works 3 wick candles, these remind me of those both in how they look and in the quality of the scents.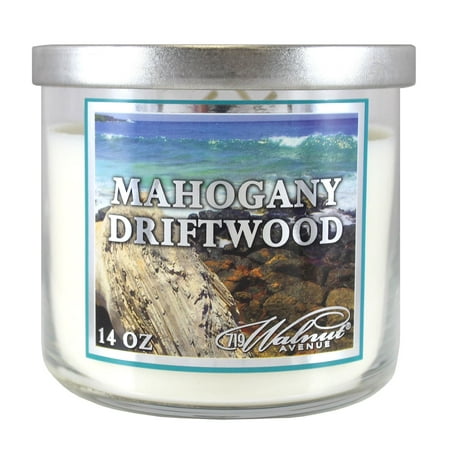 4. Concrete Bowl Candle Eucalyptus Sage- $9.99
This is another random find, but the scent is so fresh!  I found this one back in the outdoor section of Target.  I'll admit, I was slightly disappointed at first because I thought it was a citronella candle, and I was so excited that it didn't smell like citronella.  Well…. that's because it is in no way a citronella candle!  But it is a wonderful smelling candle, and it's cement container is pretty cool looking.
What are your favorite scents?  Are candles your go to, or do you prefer diffusers, warmers, or something else?  I'd love to hear your favorites!  Let me know in the comments below.